CHART
All Trading4Pro's charting software features are divided into two sections:
Main menu functions: all of chart's settings, allowing you to reach maximum customization for your trading style.
Special features: some additional user-friendly features and shortcuts, that allow you a better control and expanded abilities.
Are you a financial institution? Check out our special enterprise tools read more
Search
Typical feature, that allows you easily find your favorite asset. When there is more than one chart available: a multiscreen feature – a new asset will be uploaded into active chart.
USDAED

USDBHD

USDBRL

USDCAD

USDCHF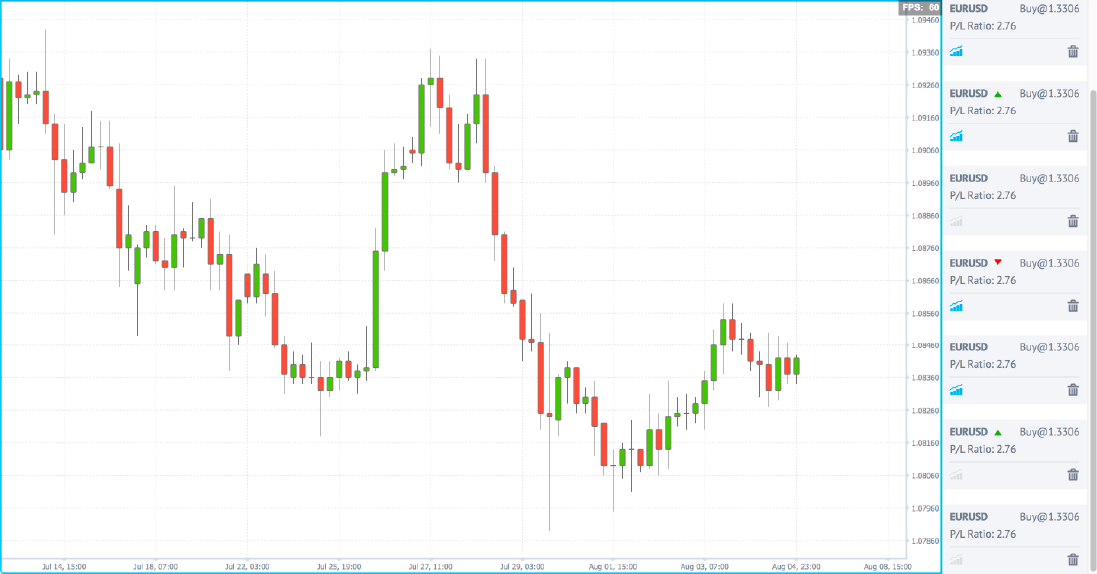 Timeframe
Another well-known function, allows you to change a period of time presented by each candle. Choose any timeframe, from 1 tick to 1 week.
1 Tick

1 minute

5 minutes

15 minutes

1 hour

4 hours

1 day

1 week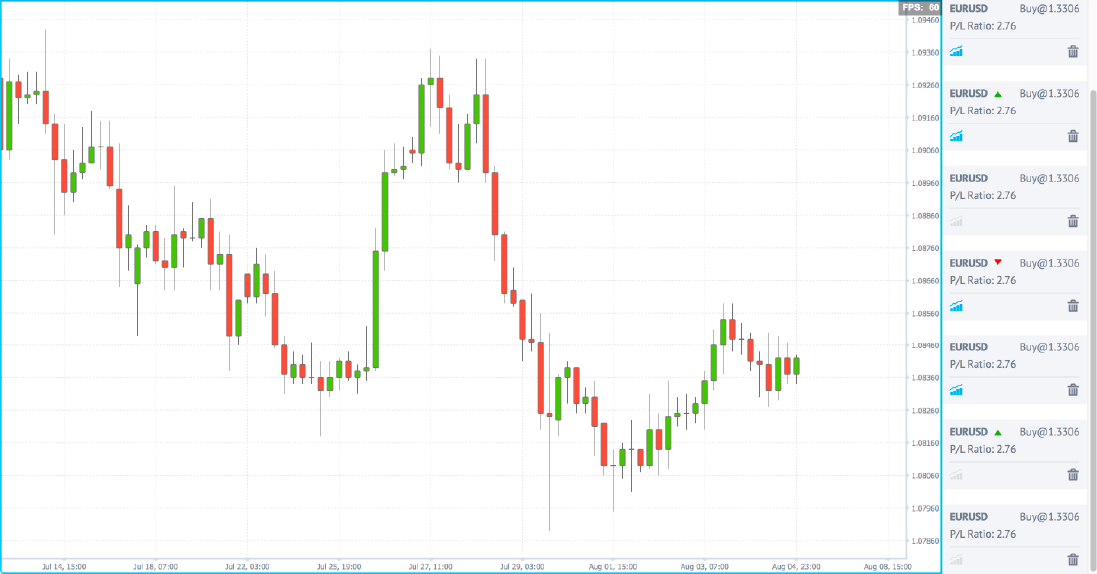 Chart type
Allows you to choose among 4 most popular chart's types: bars, candles, line and area. We are planning to add Renko and Kagi chart types in closest time.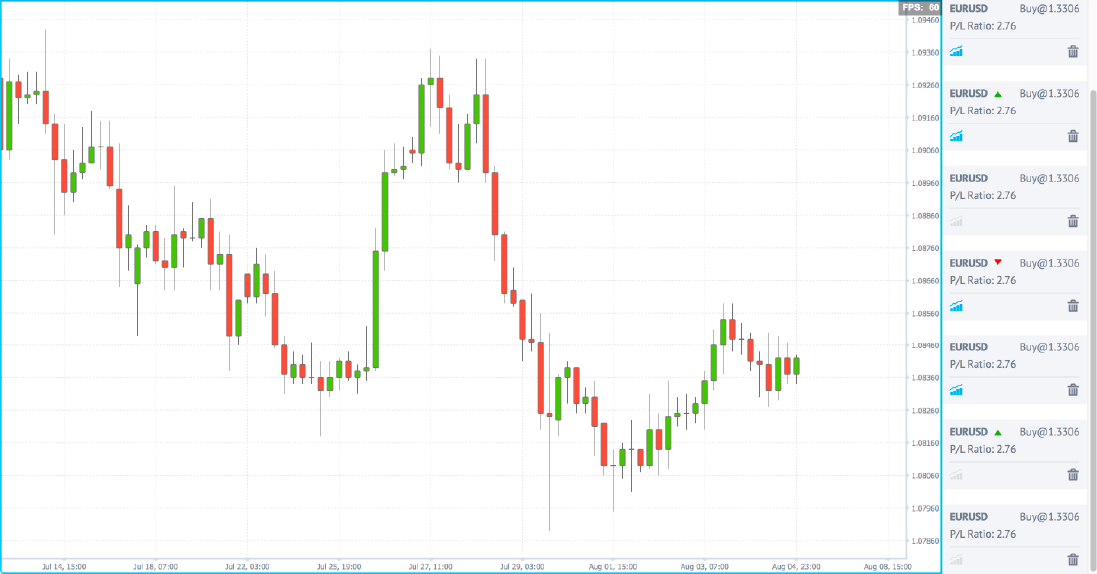 Color theme
Three different color combinations allowed, the traditional green/red, retro black/white and modern blue-light/purple, each combination might be in light or dark style.
Classic

Orange and blue

Purple and green

Pink and blue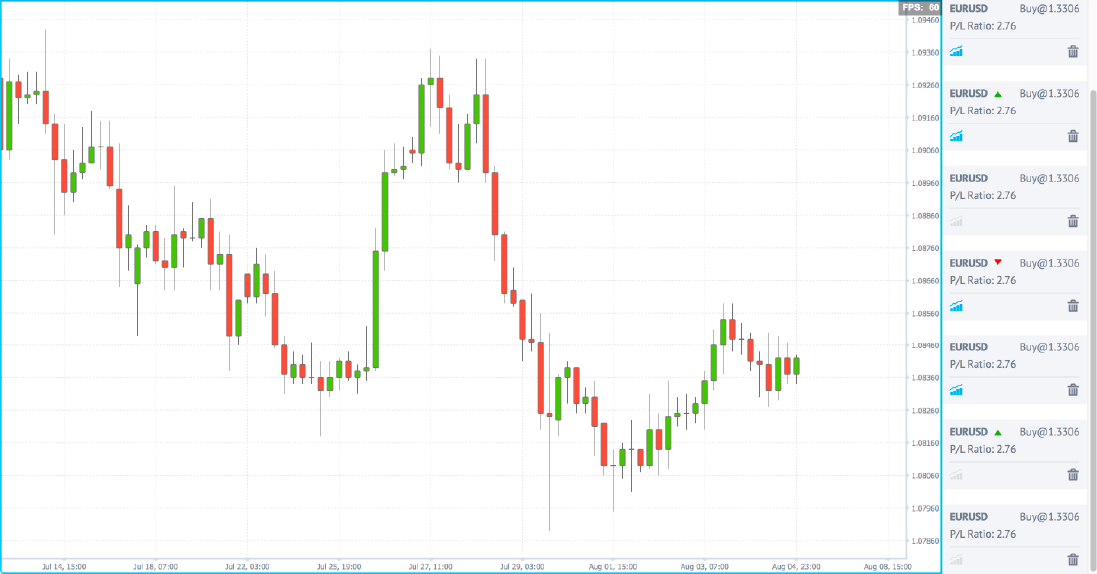 Indicators
Instantly growing set of indicators is available for better analyzing with commonly used settings and color choice options. After drawing one, click on its data box or line to edit/remove it.
Bollinger Bands

Doncian Channel

Exponential Moving Average

MACD

Momentum

Relative Strength Index

Simple Moving Average

Stochastic Oscillator

Williams Alligator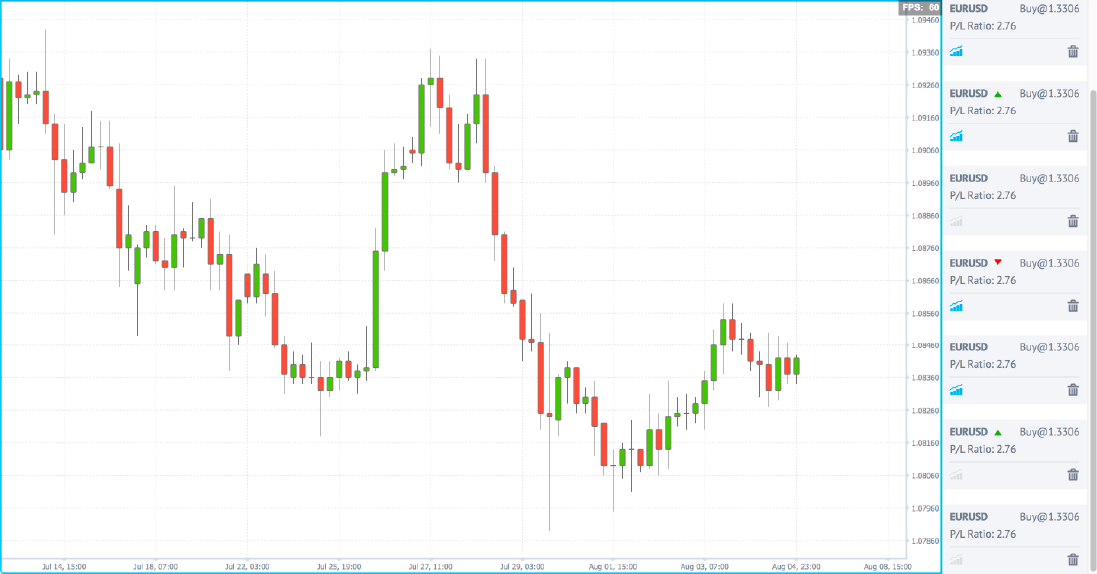 Analytics tools
To make your analysis more precise, use drawing tools: from line and channel to Fibonacci levels and Gann Fan. Click on drawing's line to edit/delete it. Set your trading ideas with "trade" tool.
Line

Horizontal Line

Vertical Line

Parallel Channel

Triangle

Circle

Text

Pitchfork

Fib Retracement

Gann Fan

Gann Box

Arrow

Trade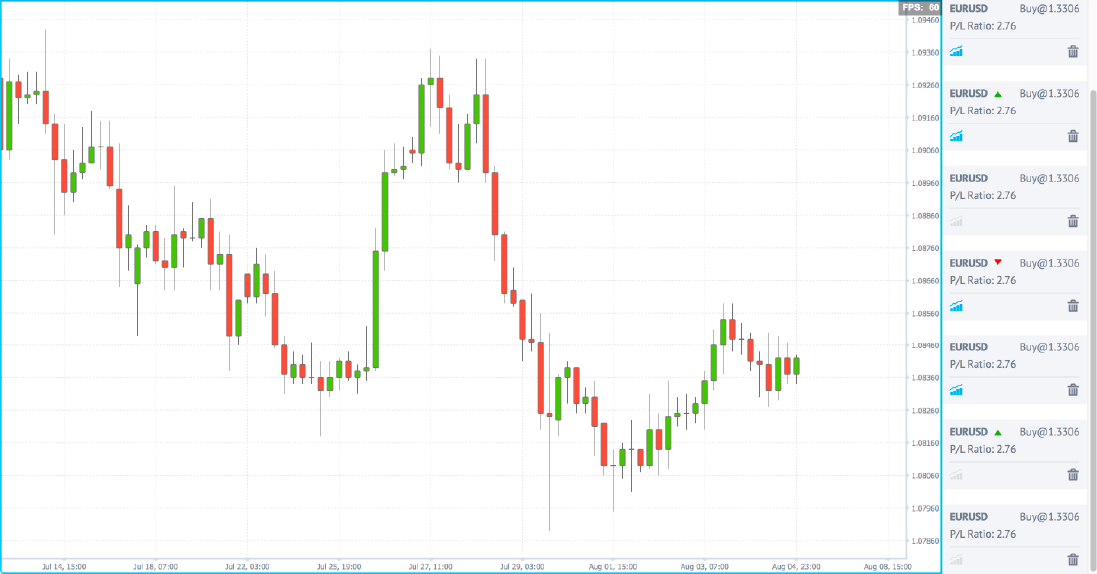 Multiscreen
Allows you to open up to 6 charts simultaneously in different layouts for tracking different assets/timeframes. See more features capabilities of "multiscreen" in "Special Features".
Single

Split

Vertical Split

Horizontal X3

Vertical X3

Quarters

One+Five

Table 3x2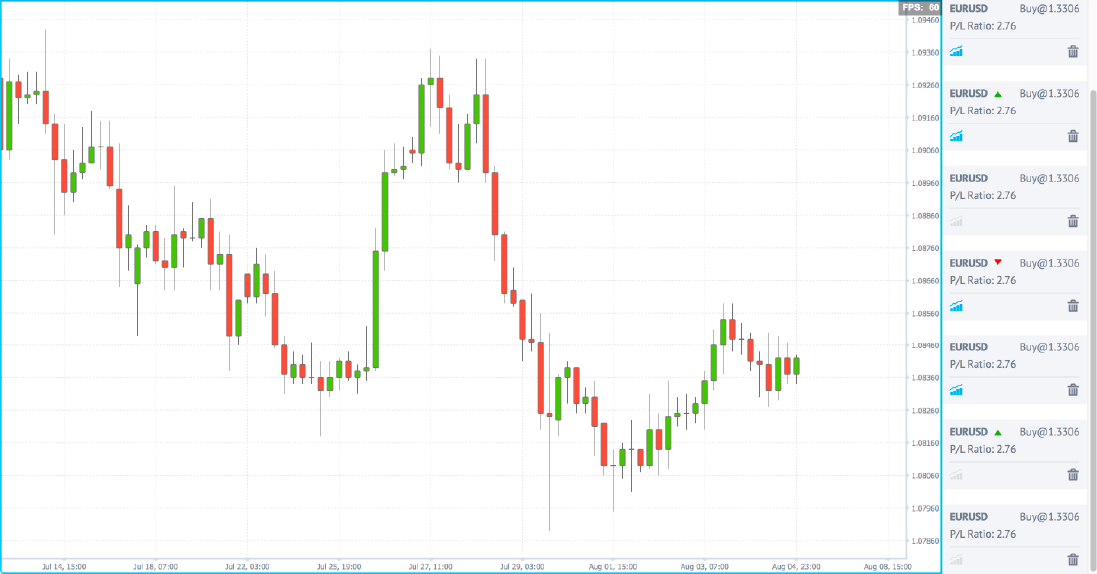 Cleaning
Cleaning
Reset all charts

Remove analytics

Remove indicators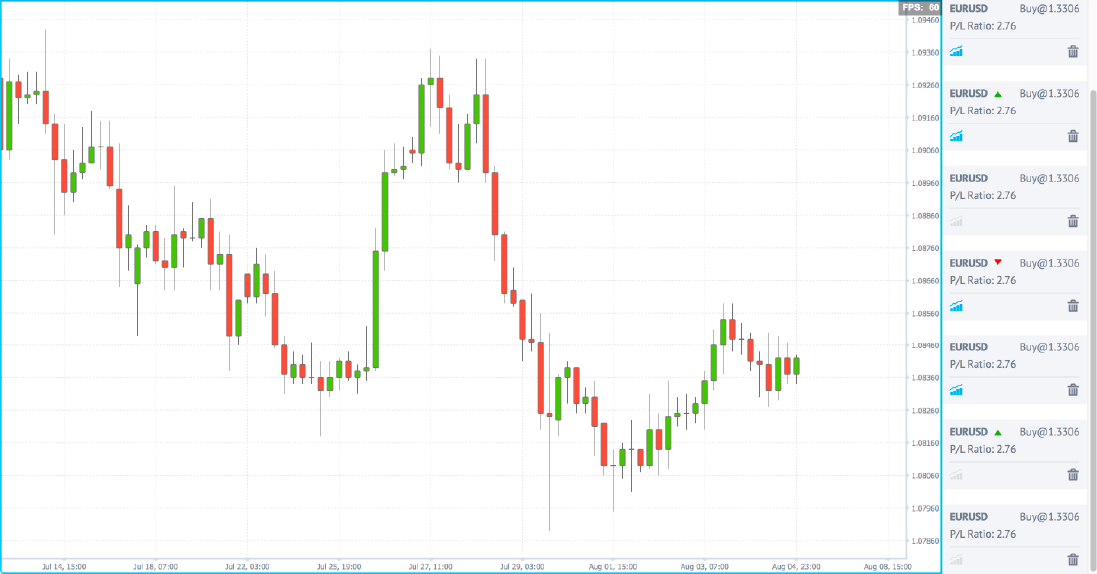 Screenshot
Finished your analysis and want to share it with your friends/trading community? A one click option allows you to save screen as a link or/and share it with your friends or trading community.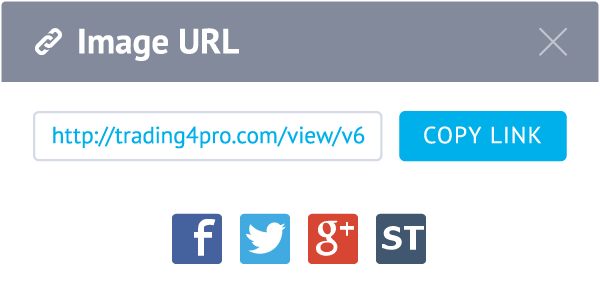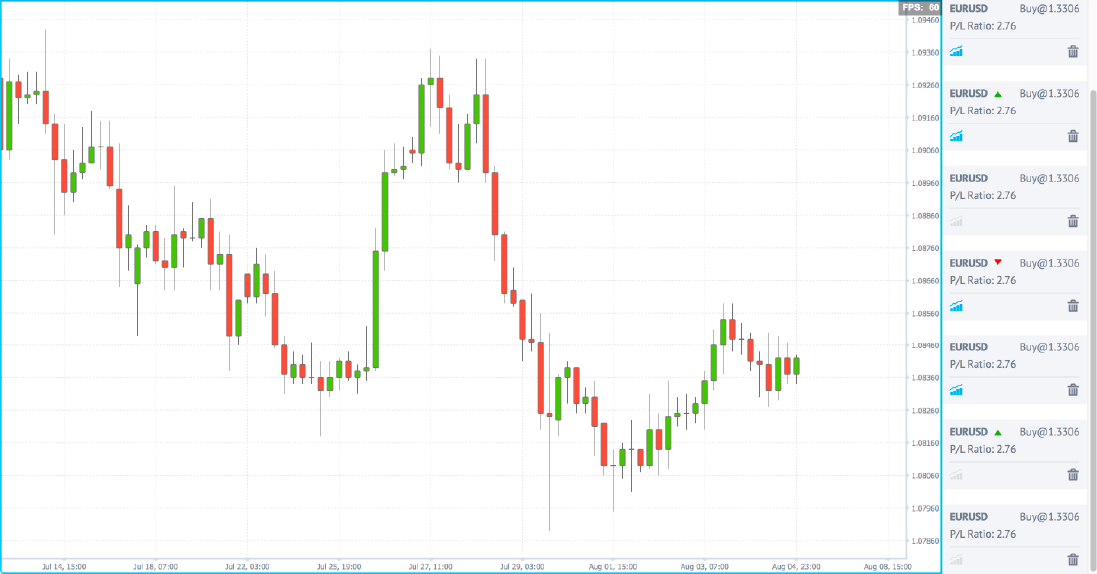 Replacing charts
Staying in multiscreen mode – in case you wish to rearrange the order of charts in your layout, just grab the chart you want to replace by its OHLC data box and drag and drop it in other place: two charts will switch their places.
Reload your trading idea
After sharing your trading ideas with friends/community using screenshot feature – it will appear in trading4pro.com/view/L6NtBysC type of link. After "replay" icon is clicked on your idea's image, a person will be redirected to chart and then your idea will be reloaded to that chart exactly as you published it. Clicking "replay" icon on chart will upload new candles, allowing to test the preciseness of your analysis.